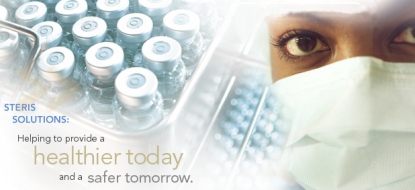 STERIS is a leading global provider of infection prevention, contamination control, decontamination microbial reduction, and surgical and critical care support products, services and technologies used in the healthcare industry.
From washing and decontamination to sterilisation and sterility assurance, STERIS's systems and services add continuity, consistency, and quality to proper instrument care.
The washing and sterilisation products are offered through various brand names that include STERIS System 1, Amsco, Hamo and Reliance and the sterility assurance consumables are offered under the brand name that include Browne and Verify.
The mission of STERIS is to provide a healthier today and safer tomorrow through knowledgeable people and innovative infection prevention, decontamination and health science technologies, products and services.

STERIS Limited
STERIS House
Jays Close
Viables
Basingstoke
Hampshire RG22 4AX
United Kingdom
Tel: +44-(0)1256-840400
Free Phone: 0800-252600
Fax: +44-(0)1256-866502
www.steris.com/international