Country
Argentina
Logo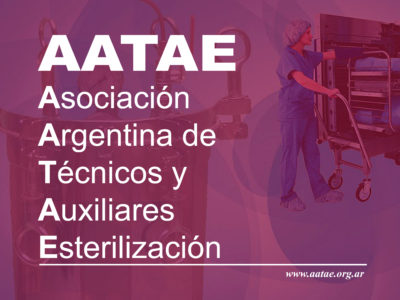 Acronym of Organization
AATAE
Full Name of Organization
Asociación Argentina de Técnicos y Auxiliares en Esterilización
Institution Name
Argentine Association of Technicians and Auxiliaries in Sterilization / Asociación Argentina de Técnicos y Auxiliares en Esterilización
Street / No.
Tabare 2232
Postal Code
1437
City
Buenos Aires
Number of Members
106
President
Kurt B. Terrazas
Phone No. of President
+54 11 4927 1332
Further contact person(s)
Further Information
Asociación Civil: Asociación Argentina de Técnicos y Auxiliares en Esterilización.
Civil Association: Argentine Association of Technicians and Auxiliaries in Sterilization.
Desde 1985 la Asociación Argentina de Técnicos y Auxiliares en Esterilización se dedica a promover, realizar, apoyar y difundir las buenas prácticas metodológicas sobre esterilización en sus diferentes ámbitos.
Creada el 21 de octubre de 1985, surgió de la inquietud de un grupo de técnicos y auxiliares, que sintió la necesidad de nuclearse para sumar esfuerzos a fin de lograr una serie de objetivos comunes e inherentes a esta especialidad, de tal manera de sentirse representados por una asociación que bregara por los intereses técnico-científicos de sus profesionales y que simultáneamente ofreciera para ellos una permanente capacitación.
La Asociación Argentina de Técnicos y Auxiliares en Esterilización es una entidad que agrupa en su seno a los profesionales que desempeñan su labor en ámbitos que realizan prácticas de asepsia, desinfección, descontaminación y esterilización.
Así nació AATAE, que tiene desde un primer momento un carácter federal e independiente, con el objetivo de alcanzar el perfeccionamiento y capacitación de técnicos y auxiliares, tendiendo a la formación integral con sólidos conocimientos y experiencia suficiente como para afrontar satisfactoriamente los complejos problemas de las centrales de esterilización. Para concretar estos fines organiza: conferencias, cursos, simposios, jornadas y congresos.
Nuestra Asociación mantiene una política amplia en la realización de actividades que generan un espacio de reflexión interdisciplinario, donde se trata de buscar respuestas a las necesidades teóricas y prácticas relacionadas siempre a nuestra especialidad. De esta manera, acompañamos al personal técnico en brindar el soporte adecuado al profesional Farmacéutico Especialista en Esterilización.
Esta es una breve presentación de nuestra Asociación y sobre las actividades que normalmente desarrolla. Si Ud. desea mayor información o si desea asociarse y colaborar, no tenga ninguna duda en contactarnos.
Since 1985 the Argentine Association of Technicians and Auxiliaries in Sterilization is dedicated to promoting, realizing, supporting and disseminating good methodological practices on sterilization in its different areas.
Created on October 21, 1985, it arose from the restlessness of a group of technicians and auxiliaries, who felt the need to nucleate to join efforts in order to achieve a series of common objectives and inherent in this specialty, in such a way to feel represented By an association that deals with the technical-scientific interests of its professionals and that simultaneously offers permanent training for them.
The Argentine Association of Technicians and Auxiliaries in Sterilization is an entity that brings together professionals who work in areas that perform asepsis, disinfection, decontamination and sterilization practices.
Thus was born AATAE, which has from the outset a federal and independent character, with the objective of reaching the improvement and training of technicians and auxiliaries, tending to the integral formation with solid knowledge and enough experience to face satisfactorily the complex problems of the Sterilization plants. To achieve these goals, it organizes conferences, courses, symposia, conferences and congresses.
Our Association maintains a wide politic in the realization of activities that generate an area of ​​interdisciplinary reflection, where we try to find answers to the theoretical and practical needs always related to our specialty. In this way, we accompany the technical staff in providing the appropriate support to the professional Sterilization Specialist Pharmacy.
This is a brief presentation of our Association and the activities it normally develops. If you want more information or if you want to associate and collaborate, do not hesitate to contact us.