Laoken Technology is one of the leading manufactures of low temperature plasma sterilizer and air disinfection; instrument sterilization with ISO9001/ISO13485/CE certification.
With the foundation concept of care for life, concern health, the company has developed its own products with brand and patent by self-reliance and technology import.
Through the efforts of several generations, the company has long being engaged in the distribution and popularization of new products and technology in fields of disinfecting, purification and sterilization. And now, we have many distributors in Oceania, Russia, Egypt, Thailand, Italy, Spain, Peru, Brazil and so on.
Laoken Technology provides the following to maximize the satisfaction of our customers:
– A Comprehensive Medical Disinfection & Sterilization Service Supplier
– A solution for Air disinfection and purification
– A solution for instrument sterilization
– A solution for instrument cleaning
– A solution for CSSD planning
Laoken Technology's LK/MJG-Series Plasma Sterilizer also offer the best quality including:
1. The fastest cycle time: 16 minutes
2. Sterilization effects: for 1mm diameter stainless steel, we can reach 600 mm without any booster.
3. Humanized design: foot switch, flexible shelves, built in-incubator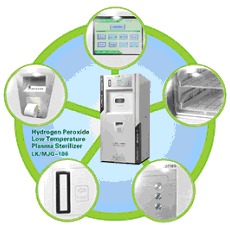 For more information, you are welcome to visit our website at www.laoken.com.


Laoken Technology Co., Ltd
268 Zhanggang Road
South Modern Area
Pixian, Chengdu
Republic of China
Tel: +86-28-87804349
Fax: +86-28-87804349
E-mail: info@laoken.com
Web: www.laoken.com