Since 1 January, 1994 Franke Medical Oy has been part of Franke Group. The factory was built in 1970 and is located at Naarajarvi approximetely 300 km north of Helsinki.
The product range includes domestic sinks, sink tops, kitchen hoods, kitchenette units, bathroom equipment, sanitary ware and automatic washer-thermal disinfectors for healthcare and laboratory applications.
DEKO washer-disinfectors have been designed and manufactured since 1970's at Franke Medical Oy. Thanks to the long experience of the research & development, production and marketing personnel, as well as most advanced modern manufacturing facilities, Franke Medical Oy is one of world's leading companies offering reliable automatic cleaning and thermal disinfection machines, which meet the highest requirements and standards of modern health care globally.
The operations and products meet the requirements of ISO9001, ISO14001 and MDD 93/42/EEC ISO13485 and have been audited and certified by VTT Industrial Systems, Notified Body no. 0537 under Council Directive 93/42/EEC.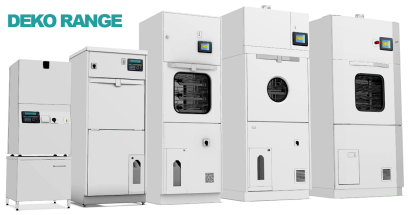 Today's range of the Deko machines consists of washer-disinfectors in four different sizes, a bedpan washer-disinfector and a drying cabinet.

Franke Medical Oy
Vartiokuja 1
76850 Naarajärvi
Finland
Tel: +358-(0)15-34 111
Fax: +358-(0)15-3411 760
Web: www.dekorange.com