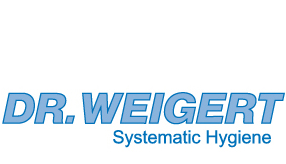 Chemische Fabrik DR. WEIGERT is a specialist in the field of mechanical cleaning and for the solution of hygiene problems in areas of professional application:
Catering hygiene with the focus on dishwashing, the cleaning and disinfection of equipment in laboratories and medical technology, programme-controlled cleaning and disinfection in the food industry.
To achieve this we develop, manufacture and market cleaning and disinfection agents under the brand names neodisher® and neomoscan®.


As a system provider, we put service at the core of our business: comprehensive expert advice and extensive technical service, computer-supported application optimisation as well as the most modern dosing and control systems.
For more information, visit our website at www.drweigert.de or make direct contact ...

Chemische Fabrik DR. WEIGERT (GmbH & Co.)
Mühlenhagen 85
D-20539 Hamburg
Germany
Tel: +49-(0)40-7 89 60-0
Fax: +49-(0)40-7 89 60-120
E-mail: info@drweigert.de
Web: www.drweigert.de