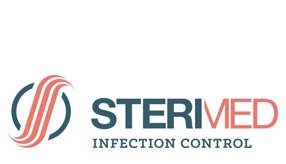 STERIMED on

Company Sterimed (formerly Arjowiggins Healthcare) is fully focused on sterilization packaging and infection control solutions. With 4 dedicated operating sites and over 70 countries worldwide selling our products, we can proudly say that we are the leader in the industry.
Our activity encompasses the whole scope of hospital products when sterilization & sterility maintenance are needed:
Single use medical devices
Devices that are re-processed in hospitals
Product line includes Sterisheet® SMS wraps, non-wovens, cellulose wraps, trayliners, container filters, electronic BD, transport trays, as well as Propypel® steam sterilizable material that is used for the manufacturing of hospital pouches and tubing.
Sterimed is also happy to provide specific educational seminars to market with its Pack Design Days (www.packdesignday.com) and Patient Safety Forums (www.patient-safety-forum.com).
We strive to deliver best services to our customers, always keep an eye on development of the market and therefore we are able to bring tailor-made solutions to our clients. For more information visit our website: www.sterimed.fr